Tom Tuunainen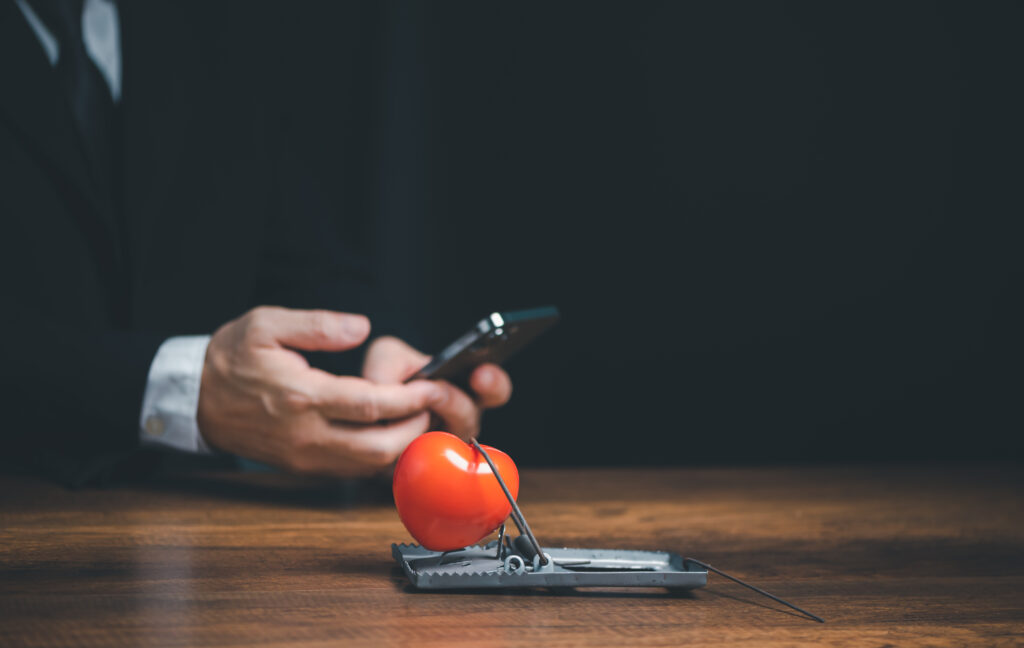 Online dating is becoming increasingly popular and is one of the most popular ways to meet a potential partner, whether it is a casual date or even a committed relationship. Unfortunately, criminals also target online dating services to commit identity theft and financial fraud.
Criminals now also have new tools to attract love seekers, luring potential victims with artificial intelligence (AI). With the release of AI tools such as ChatGPT, criminals can create anything from seemingly innocent introductory chat lines to full love letters in seconds.
In McAfee's latest Modern Love Research Report, McAfee sent a love letter to more than 5000 people around the world and asked them if it was written by a human or by artificial intelligence. A third of the people said it was the person who wrote the letter, a third said it was written by an AI, and about a third said they could not tell if it was written by an AI. (McAfee 2023.)
Chatting with a stranger regardless of whether the messages are created by AI or not is one thing. The big question is, however, how often does chatting lead to requests for money, gifts or personal information. The answer to the question is that more than half the time. As reported by McAfee (2023), 55% of respondents said that strangers asked them to transfer money. In about 34% of those cases, that amount is less than 500 USD, but in 20% of the cases it is more than 10,000 USD. Additionally, 57% of the respondents globally said they have been asked to share personal information. This is usually their phone number (30%), an intimate photo or video (20%) or their email address (18%). There are also inquiries for a government identification number or tax code (9%) or a password to their social media, email or bank accounts (8%). (McAfee 2023.)
So how do you avoid getting caught up in an online dating or romance scam? Well, what makes these scams so malicious and hard to detect is that criminals take advantage of people's emotions. After all, we are talking about love. People do not always think and act clearly when they are in love. However, an honest look at the relationship will give the best advice a person needs. Ideally, you should talk to someone you really trust about the new love. It can be easy to miss things that do not fit. You can also proceed slowly. One can ask questions and look for inconsistencies in the answers of the target of interest. One can also try a reverse image search of the profile pictures the interest uses. If they are linked to a different name or the details do not match the person, you may be facing a scam. (HP Development Company 2021.)
Remember that online dating and romance scams are crimes (Rikosuhripäivystys 2019). If you think you or someone you know is a victim, report the incident to the authorities. It is also important to remember that chatbots like ChatGPT are only tools. Therefore, they are not inherently good or bad. It is the user who chooses to apply the tool in one way or another. And in the case of crime, AI-powered chatbots can do a lot of harm.
References
HP Development Company. 2021. How to Tell if Someone is Scamming You Online. Available at: https://www.hp.com/us-en/shop/tech-takes/how-to-tell-if-someone-is-scamming-you-online. Accessed 29 August 2023.
McAfee. 2023. McAfee's Modern Love Research Report – A look at how artificial intelligence is changing the future of love and relationships. Available at: https://www.mcafee.com/content/dam/consumer/en-us/docs/reports/rp-mcafee-modernlove-report.pdf. Accessed 29 August 2023.
Rikosuhripäivystys. 2019. Online Romance Scams. Available at: https://www.riku.fi/en/various-crimes/online-romance-scams/. Accessed 29 August 2023.
Tom Tuunainen
R&D Developer
Centria University of Applied Sciences
Tel. +358 40 681 7207